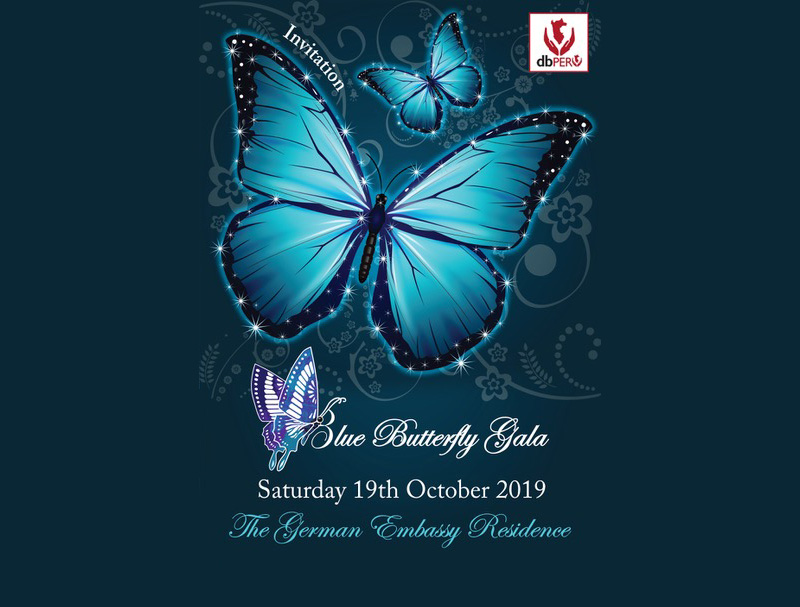 DB Peru Gala 2019
The 2019 DB Peru Blue Butterfly Gala was, yet again, the most beautiful night of the year!
We started in the jungle, and this year we returned to the jungle on the wings of the beautiful Blue Morpho butterfly.
We would like to thank German Ambassador Herzberg and his wife Sofia for hosting this spectacular evening of wining, dining and dancing at the biggest night of Lima ́s social season!
And a special thank to all the guests and sponsors who gave their support for our work in the jungle.
Our sponsors:
Schiaffino Gastronomica Catering
Otto Kunz
Clinica Santa Isabel
Teach Beer
Delixir Pisco
Velas Eternas
Zamer Seguridad & Protocolo
Gam Klutier
Expat Shop Peru
Agencia Audiovisual
Floreria La Frecias
Living in Peru
D'Pasion Reposteria
Ingenium
Explorama Lodges
Casa del Sol MachuPicchu Boutique Hotel
Daniel Guidi Estilistas Frances
Alexandra Temple
Kangaroo Kite
Joan Alfaro
Ayni
Brian Douglas Skin Studio
Cristina Stucchi
Zaika Restaurant and Hookah Bar
Mishki
Artesania Pintado
Sylvia Mund
Tamarai
Trish Kent
Joaquin Caballero
Paola Cerceda
Tom Salazar
Antonieta Escomel
Gladys Russell